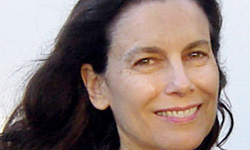 Annette Cyr combines her strong visual point of view with compelling storytelling. Cyr's work has been supported by scholarships and grants from Yale University, the Skowhegan School of Painting and Sculpture, the National Endowment for the Arts, Art Matters, Inc., New York State Cultural Affairs (NYSCA), President's Scholarship Award (National University) and the Brooklyn Arts Council and residency fellowships from the art colonies Yaddo, MacDowell, and Millay. Cyr earned an MFA in Painting from Yale University and spent a year of studies in Italy and one in Paris, France (La Sorbonne, Censier, Cinemateque). Cyr balances the solitude of painting with the camaraderie of filmmaking. Recent films include
Evangeline
, inspired by Longfellow's classic poem;
A Poet's Life, a visit to the poet Jane Hirshfield
; and
The New Look
, from
The Life of a 21st Century Artist Series
, an ongoing series and spoof on PBS series Art 21 about the predicaments of an artist, Annette Souris (the mouse). Cyr's films have been screened nationally and internationally, recently at the Skowhegan Alliance in New York City, The Haskell Opera House, on the Vermont and Quebec border, and The Athenaeum in La Jolla, California. Cyr divides her time between New York City and San Diego, where she is Lead Faculty Art at National University.
Cinematographer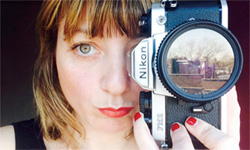 Valentina Caniglia, AIC-IMAGO, one of the foremost cinematographers in the world, admired for her defining and original voice, continually garners best cinematography awards at national film festivals. She is known for her work on
Pomegranates and Myrrh
, winner of the Golden Dagger for Best Cinematography, which premiered at The Sundance International Film Festival, and was honored with the Audience Award at the Doha Tribeca Film Festival, presented by Robert De Niro. Her award-winning films include:
Shade Of Love
, winner of best cinematography award at the Hoboken International Film Festival;
Fred Won't Move Out
, starring Elliott Gould, nominated for best cinematography for the AIC IMAGO Award; and the critically acclaimed film
Assolo
, described by international critics as a film with "astonishing and elegant cinematography".  Caniglia's other film work includes
Return to Sender
, starring Bill Cobbs, directed by Oscar-winning producer Ravi Malhotra,
Lostland
, starring Burt Young, and
Nightmare
, winner at the New York Film Festival. The film's cinematography was featured in American Cinematographer. She recently contributed her talents as camera operator for the film
Kelly&Cal
starring Juliette Lewis.  Caniglia films for HBO, Canal Plus, Showtime TV, RAI, and Voyage TV. She filmed underwater cinematography for Netflix in the Caribbean, Italy and Egypt. Caniglia lensed numerous nationally aired commercials for British Airways, Ford, Nike, Novomatic, United Healthcare and Konami. Her cinematography for GBX Shoes received the Telly Award.  Valentina is well-known for lensing music videos for The Roots, The Stain and Aesop Rock. Her work for Soho achieved the first position at the MTV Music Videos Awards.  In 2012, Valentina Caniglia was bestowed membership in the European Federation of Cinematographers IMAGO and the Association of Cinematographers (AIC).  Caniglia has been featured in the following publications:
American Cinematographers, IndieWire, Hollywood Reporters, Variety, The New York Times, The Village Voice, InCamera, La Repubblica, Il Levante, Il Mattino
and
Elle
.
Cast
Renee CHRISTINE KENT
The Father LOUIS B. JACK
Mark ADAM WEBER
Stacey SHEILA MARIEZCURRENA
The Dealer JEFF MARCHELLETTA
The Collector KARL STEUDEL
JJ, The Gallery Art Handler JASON VAN ENGELENHOVEN
Art Gallery Assistant MONICA CHEN WU
Stacey's Entourage BRIAN CYR, BEN LU, JACOB MURILLO, DREW MASON, BRETT MAYNARD
Jennifer, the art student CHELSEY MOORE

---
Production
Director ANNETTE CYR
Cinematographer VALENTINA CANIGLIA, AIC-IMAGO
Executive Producer MOLLIE GATTO
Producers JOHN TAGAMOLILA, JAMES GIBLIN
Music Composer ROBERT LOUIS HART
Production Design L. V. O'CONNELL
Editor CARLA RODA
Sound Design MICHAEL ARCHACKI

1st Assistant Director RACHEL WOODBURN
1st Assistant Camera MED DYER
2nd Assistant Camera EDUARDO ALEJANDRE
DIT M.W. TILTON
Gaffer ANDREW "AJ" JORGENSON
Grip / Lamp Operators ROBERT AGUIRRE, ANDREW CARMON, DANIEL CORMIER, LEVI KNOX, MICAH MINOR, KEVIN SHANMUGAM
Location Sound DYLAN HIRSCH
Script Supervisor NICK PULEO
Hair & Makeup Stylists MELISSA EDWARDS, STEPHANIE COSTA
Production Assistants ANNA SILVA, REBEKAH HUEY
Set Photographer CASEY PRICE
Set Videographer CHRISTIAN VEGA
Craft Services & Catering MONICA NGUYEN

Musicians JANET WHITE, JANET MATTHEWS, DON MATTHEWS
VFX, Main Titles and Credits O'CONNELL DESIGN
Music Chopin Nocturne #27

Special Thanks to The Escondido Arts Center, Escondido, CA

Shot on RED Epic-X
Digital Intermediate Harbor Picture Company
Colorist ROMAN HANKEWYCZ
DI Producer MATT CARUSO
Director of Picture Post KEVIN VALE